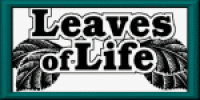 Walter Veith - A New Beginning
Proof Positive - Dr Neil Nedley
Leaves Of Life
28 Sandford Avenue
Wood Green
London N22 5EH
Tel./Fax: + 44 (0) 208 881 8865
E-mail Contacts:-
or
The first Monday of every month you can find us at:-

The Advent Centre, Banqueting Suite, 39 Brendon Street, London W1 (Corner of Crawford Place and Brendon Street)

Click Here For Detailed Central London Map To Find Us

Health Restoration & Education
The lectures offers you a lifestyle program design to meet your needs, in which you will be learning the principles of health and nutrition. Your health education will give you increased confidence as you plan your own personal wellness program through the principles that will be shared with you throughout the seminars.
If you would like to make any bookings in regard to cooking demonstrations and lifestyle presentations in your area, please contact either e:mail addresses on the left.
Vegan Recipes
The following is a small sample of vegan vegetarian recipes (non-dairy) for you to try, and of course, feel free to add recipes that you have created !
1. Basic Whole Wheat Bread
Dissolve sweetener in the water then stir in yeast. Let stand 5-8 minutes as the yeast begins to bubble. Stir in the oil and salt. Add one and a half cups of flour. Beat vigorously for one minute. Add remaining flour gradually. Use only the amount of flour necessary to handle dough without it sticking to your hands. Lightly flour table and knead dough for 5 minutes. Add more flour if necessary. Place dough in a large bowl, cover with a clean towel. Let dough rise until double for 30-45 minutes. Punch down, knead briefly. Squeeze out all air bubbles. Shape into loaf. Place in a medium size oiled loaf pan. Cover with a towel. Let rise until nearly double in size for 30-45 minutes. Bake at 350 degrees for 30-40 minutes, until golden brown and bread slips from the pan. Cool on a rack.
2. Tofu Cheese
3/4 cup water

1/2 cup cashews

3/4 cup Tofu

2 tablespoon yeast flakes

1 1/2 tablespoons lemon juice

1/3 cup pimento

1 teaspoon salt

1 teaspoon onion powder

1/4 teaspoon garlic powder
Blend smooth all ingredients. Chilling will make ingredients thicker.
3. Carob Balls
Thoroughly mix carob and milk powder into honey. Stir nut butter into this. Form into balls by rolling portions between palms. Roll in coconut. Chill to make more firm.
4. Vegetable Pot Pie
1 1/2 cups cubed firm tofu

1/2 cup chopped onion

1 cup diced carrots

1 cup diced potatoes

2 1/2 cups gravy of choice

1 cup green peas

whole wheat pie crust
Cook vegetables until tender in small amount of water. Stir in tofu and gravy. If desiring a bottom crust, use a double recipe for the crust and lightly oil a 1 1/2 quart casserole. Cover bottom and sides with portion of crust. Fill with vegetable mixture and top with remaining crust. Poke a few holes in the crust then bake at 350 degrees for 50 minutes.